Table of Contents
Unexpected financial emergencies happen and when they do you likely begin looking at your options. Traditional bank loans could be one or you could go a faster route; title pawns. People pawn everyday items all the time, but not many realize their vehicle title could also be pawned when in need of much-needed cash. Yes, there are some requirements to meet but they're far less than what traditional loans require.
Access Fast Cash Even With Bad Credit
One of the reasons title pawns are a preferred choice is because you don't need to worry about your credit. You use your vehicle title as the collateral and make monthly payments. Once your loan is repaid in full you receive the title back. It really is that simple.
Can I Pawn My Title Without A Job?
This is possible to do, however you must have some source of monthly income. It doesn't have to come from employment but it must exist. Our professional title pawn lenders understand that not everyone is an ideal candidate for car title loans. Therefore, we will not loan to someone that cannot afford to pay back the loan. We feel this is beneficial for both parties involved.
What Is A Car Title Pawn?
A car title pawn, also known as a title loan or pink slip loan, is a short term loan option for people when they need to access money fast. They're ideal because they are fast and because anyone qualify, even with poor credit. When you're approved for a loan, paperwork is drawn up and you sign a loan agreement. You give your title to the lender to hold during the duration of your loan. Once you've paid the title loan back in full, the lender returns your title.
We encourage borrowers to ask questions when applying for title pawn loans. Our loan specialists discuss our process and terms with you to help you better understand what you're agreeing to. Quality service is our goal and honesty is something we take very seriously. Title pawns are not for everyone but when they're your ideal option, we make it easy and stress-free to get those extra funds.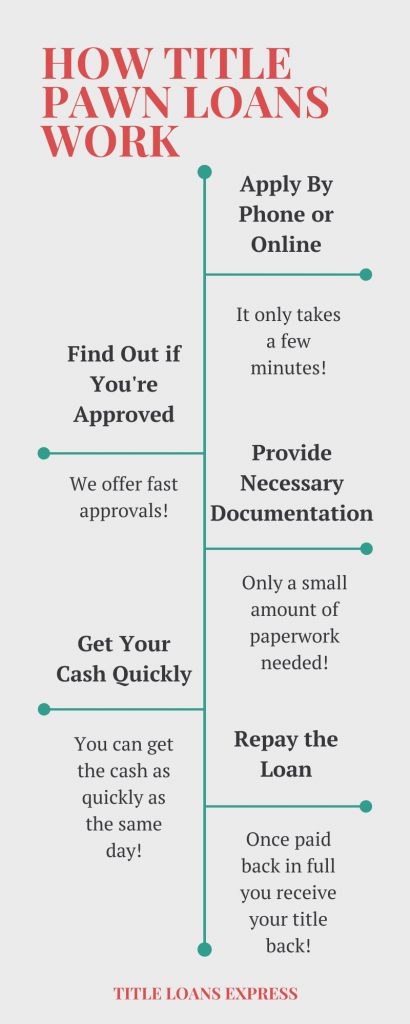 How Much Can I Get A Title Loan For?
This is typically the first question out of anyone's mouth that is looking at their options when they need some extra money. The amount you receive will vary but the minimum is $1,000* when you apply with Title Loans Express. We use your vehicle's market value to determine how much you can borrow. You don't have to take the entire amount you're approved for either. You can find out quickly if you qualify by calling our title pawn customer service reps or submitting the online form.
What Are The Title Pawn Requirements?
There are a few requirements to meet when applying for a short term loan with Title Loans Express. The two primary requirements are a qualifying vehicle (one that you own and that is lien-free) and the title, also free of any liens. Among the necessary information and documents we require is:
Proof of Income
Proof of Residency
Vehicle Title
Proof of Vehicle Insurance
Valid Photo ID
You Must Be 18 Years Or Older
Apply For Title Pawn Loans Online
Many people today gravitate towards convenience in many regards, including when it comes time to apply for a short term loan. We have an online form you can complete and submit if you're in a hurry or simply want to know if you qualify before considering a loan with us. Online title loans are very common and convenient. One of our title pawn representatives will review your application and give you a call. If you have any questions at all don't hesitate to ask us.
* Certain restrictions apply.