Table of Contents
People are doing just about everything online these days and title loans are no exception. Title Loans Express offers online title loans with no store visit required to apply and get approved. The purpose of online auto title loans is to help you get extra cash fast. For that reason, we use a streamlined process that helps you get approved quickly, your application processed fast, and the money in your account as soon as possible.
Why Get An Online Title Loan?
There are numerous reasons people turn to title loans when they need some quick cash. One of the main reasons is that this type of loan can help you secure a large sum of cash. Unlike a payday loan where you typically get up to $500 max, quick online title loans can help you secure up to $5,000 or more.
Instances when you might need such a large cash sum include:
Home or Auto Repairs
Tuition Expenses
Vacation Time
Health/Medical Bills
Residential Deposit
Funeral Expenses
And More!
The primary reason people turn to easy online title loans is just that; it's easy! You take a few minutes to fill out a short form, receive a call and then upon approval, submit the necessary documents to start processing your application. And online title loans with no store visit means no waiting in line or missing work to take time to visit a store. It also means no worrying about being denied because of your credit.
Your credit is not a deciding factor for qualifying for online title loans today. Your vehicle title is the collateral for your loan, and the market value of your car is considered when determining how much you can borrow. Other factors include your income and ability to repay the loan. Check out this Ultimate Guide to Pink Slip Loans to learn more about this type of loan and if it's ideal for your needs.
How Can I Get A Free Online Title Loan Quote?
It's easy! There is no obligation to apply for an online title loan and find out if you qualify. Just complete the form on our website and one of our loan specialists will call you after reviewing your information. Upon approval we can discuss the next steps if you decide to take the loan.
This is also a good time to ask any questions you have before agreeing to a contract; title loan or other type of contract. It's important that you understand what you're signing and agreeing to. Never do so blindly. Our title loan specialists will gladly answer your questions and discuss how our entire process works when you take a loan with us.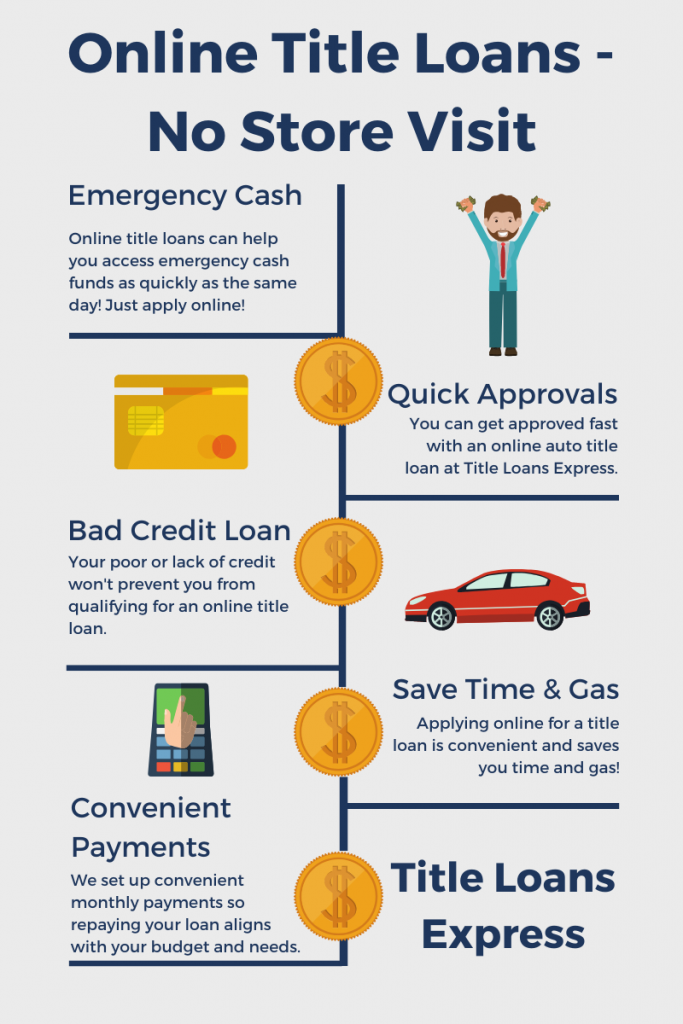 Can I Apply For Online Title Loans With No Job?
We receive calls about this more often than you might think. And the answer is yes, but only if you have a regular, monthly alternative source of income. The income doesn't have to come from a job; it can be social security benefits, disability income, or another form. But you are required to have the means to repay the loan before you can expect to get approved.
Choose One of the Best Online Title Loan Companies
When you choose to apply with Title Loans Express you can expect nothing but the best service from your first interaction to your last. Our customer service team is here to answer your questions and put your mind at ease if you have any concerns. You can contact us today to learn more about our payment options and to see if an online title loan is the right option for your individual needs.
Online Title Loans with Same Day Approval
We strive to deliver quick approvals for borrowers because we know you need the cash as quickly as possible. You can get approved the same day and sometimes get your cash the very same day as well. And you don't have to visit the store to apply for an online title loan. That convenience alone is a great reason to find out if you qualify – remember, there's no obligation to see if you're approved.
Benefits of Using Online Auto Title Loans
Some of the reasons people choose to apply for a quick online title loan include:
It's quick and easy to apply from anywhere; work, home, etc.
You don't need great credit, just a qualifying vehicle.
The cash can be in your possession as quickly as the same day.
You keep driving your vehicle.
Convenient monthly payment options.
Fewer documents required versus traditional loan options.
How Can I Apply Right Now?
Give us a call at 855-303-2274  to get started on the process or apply online. You just need a few minutes to complete the online title loan application. Once we receive it, your information will be reviewed and we will give you a call to let you know if you've been approved. From there we can further explain the next steps and the process in more detail, should you decide to take the loan. You can also ask any questions you may have about our online title loans during this time. We would be more than happy to help you, even if you don't choose to do business with us.