Table of Contents
Gone are the days when people would use their bank or local credit union for emergency funding. Nowadays people have a lot more options and this includes pink slip loans. While traditional bank loans are still an option, they often take more time, for both approval and processing. In addition, they prefer those with exceptional credit before they'll hand out a loan.
Payday loans are another option many consider but these typically only provide a few hundred dollars. So they're good for expenses that are minor but need to be addressed immediately but if you're looking for a larger sum, they're not ideal.
With Title Loans Express you could qualify for a pink slip loan with poor or no credit. Not to mention it's super easy to apply and with fast approval and loan processing, you can access the funds you need really quickly.
You shouldn't be pressured into signing a loan contract and it's important that you fully understand this type of loan and how pink slip loans work before signing anything. This Ultimate Guide for Pink Slip Loans will answer your questions and provide additional, important information that you'll want to know should you decide to apply an instant online title loan.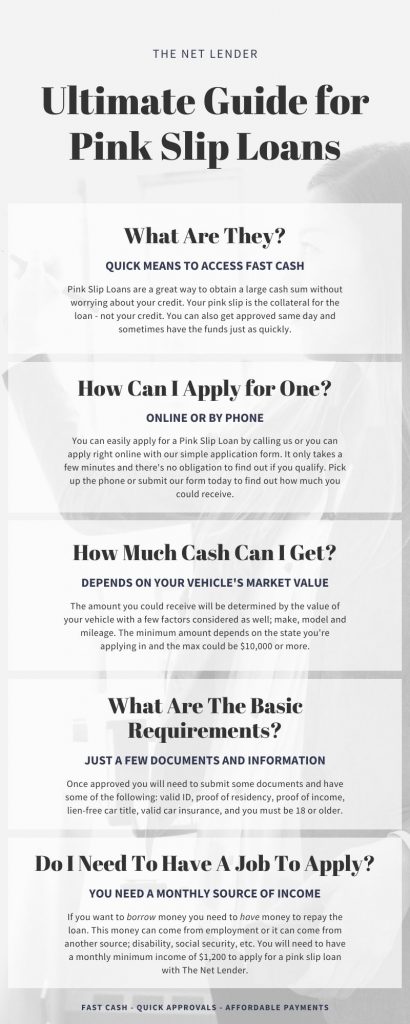 What Is A Pink Slip Loan?
A pink slip loan has many names; car title loan, collateral loan, and loan for car title are just a few of them. Who is an ideal candidate for this type of loan? A person that owns their vehicle; no liens on the vehicle or the title, could get a loan for their pink slip. The pink slip is the collateral for the loan.
Therefore, even if your credit is less than desirable but you need an emergency cash loan, you could use your vehicle title to get that money. Once the loan has been granted, the lender holds your pink slip until you finish repaying the loan. So you get to keep driving your vehicle daily just like normal.
How To Get A Pink Slip Loan
Pink slip loans are ideal for many people because they're easy to apply for and obtain. In fact, they're easier than other traditional loans. To find out if you qualify the application is typically short and simple. Just answer some basic information and then your application is sent to the lender. The lender is reviewed and upon approval, you'll find out how much you qualify to receive and the documents needed before proceeding.
Have bad credit?
That's okay! Credit checks are not typically required for pink slip loans because your collateral is the vehicle title. Therefore, the lender is lending you this money, not based on your credit, but based on your vehicle. Your car's equity will factor in when determining how much money you could get.
Another fact that goes into determining how much you can borrow is your ability to repay the loan. You won't be lent more money than you can afford to pay back is what it basically comes down to. Industry experts will analyze these two factors before approving the loan.
Have an older car?
Even with older cars, you could still qualify for a pink slip loan. The market value of your vehicle is determined when you apply. You submit the make and model and year along with mileage. A percentage of this value is what you're offered to borrow. You will get a larger loan if your ability to repay the loan is not questionable. Your monthly income will also be required to better determine an ideal loan amount based on your individual finances.
Getting Extra Funds with a Pink Slip Loan
While it's true that you have a chance of being approved for a car title loan if your credit is lacking, it's also important to remember that you don't have to take the maximum amount you qualify to receive. It's critical that you can afford to repay the loan and the larger loan you take, the longer it will take to repay and therefore, the more interest you will pay.
Pink Slip Loan VS Payday Loan
Some cash lenders will require you to repay your cash loan in full by your next pay day. With a pink slip loan you have more time to pay it back.
When you are approved for a pink slip loan your lender can start drafting an agreement plan. They will look at your income and financials to determine an ideal amount for your monthly payments. Then they will work with you to finalize any minor details and your agreement will be ready to be signed.
How Much Money Can I Get With My Pink Slip?
This is typically the most common question, if not the very first one borrowers ask when considering applying for a title loan. The amount will vary by applicant and is determined by the vehicle's market value. Obviously, the more value your automobile has the more money you could be approved for. We are also contacted quite often regarding getting a pink slip loan with an older car.
We accept older cars in many cases and encourage you to contact us if you want to apply with an older car. Just because it has some age doesn't mean it won't qualify. Low mileage and great vehicle condition definitely help your chances of getting approved, but again, please contact us if you want to find out if your older car qualifies for a pink slip loan.
What Are The Requirements for Pink Slip Loans?
The same things are often required for this type of loan, but when applying with us our Pink Slip Loan Requirements include:
You Must Be 18 Or Older
Valid Driver's License or ID
Vehicle Title (no liens)
Proof of Car Insurance
Lien-Free Vehicle (you must own outright)
Proof of Residency
Proof of Income ($1,200 month minimum)
Do I Need A Job To Apply With My Pink Slip?
You can apply for a loan without a job, but you do need to have some form of regular monthly income. While it doesn't have to come from employment, it does need to exist. This income could be from social security, disability or something else. So long as it is consistent and equals to at least $1,200 a month you could qualify for a pink slip loan at Title Loans Express.
Getting A Pink Slip Loan In Your State
Title Loans Express proudly serves 29 different states and would be happy to help you acquire the extra cash you need using your pink slip for a loan. You can call us today or submit our online form. One of our loan representatives will be in touch and if approved you'll find out how much you could receive. Apply now and get access to the cash you really need.