People love to go to the beach to relax in the sun, enjoy the crashing waves, and spend time outdoors. One of the most attractive aspects of living in Southern California is its easy access to the beach and sunshine. Tourists and locals alike all love to visit the beach and enjoy life by the seaside coast. Seal Beach is one of these treasured locations that attracts many people with its outdoor activities, restaurants, and bars. Beachside eateries are especially known for its prolific fresh seafood and fish. When in beach towns, check out these top locations for an amazing seafood meal!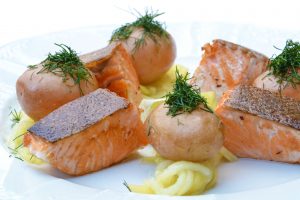 Located at 201 Main St, Walt's Wharf is a well-known favorite to Seal Beach locals. This quaint homey seafood restaurant is a great stop for anyone hungry for excellent seafood in a  seaside backdrop. Regulars love the restaurant's grilled artichoke, crab cakes, fish and chips, and clam chowder. Seal Beach residents love calling this place a landmark in the city and consider Walt's a town jewel by the sea. Along with the outstanding seafood, don't be shy when it comes to ordering a drink here. Walt's Wharf has a great selection of wines that will pair wonderfully with delicious seafood entrees.
For an excellent fine dining option, check out Patty's Place located at 500 Pacific Highway. Patty's Place resembles the traditional wine and dine sit-down venue that your grandparents fell in love with 20 years ago. The restaurant brings a certain nostalgia to your fine dining experience, complete with a bar where patrons can enjoy a glass of cognac or finely aged whisky. The restaurant is primarily a steakhouse, but Patty's Place also shines in their selection of seafood dishes. Patrons enjoy Patty's filet and lobster tail, fresh halibut, bacon wrapped prawns, shrimp cocktails, and king crab legs. Even if you're not interested in seafood, you'll love the varying options: filet mignon, new york strip steak, and even escargot!
If you're craving sushi instead of a typical seafood plate, Mahé is an excellent choice. The restaurant may surprise you if you're expecting traditional Japanese cuisine. Instead, Mahé is a blend of asian-fusion cuisine. You'll find sushi rolls along with filet steaks, prime rib sandwiches, pineapple cornbread, and nachos on the menu. The restaurant also has live music throughout the week and a full bar menu for patrons interested in cocktails. Reviewers enjoy Mahé's fresh sushi, friendly and excellent service, and the restaurant's lively atmosphere. The restaurant also serves a happy hour from 4:30 to 7pm on Tuesdays through Saturdays.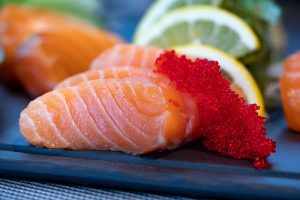 You would never expect one of the best quality sushi joints in Seal Beach would be found in an average strip mall! Located on 600 Pacific Highway is Koi Japanese restaurant. For those who enjoy their sushi with traditional Japanese cuisine, Koi Japanese Cuisine will satisfy your cravings. The restaurant's fresh sushi is a justifiably pricey for its superb quality. Local residents love gourmet entrees such as the shrimp boat, which features shrimp stuffed with crab, smelt roe, and a quail egg. Grab your cameras because these delectable dishes are served in a beautiful, clean array, making this a feast for both your eyes and your stomach. Other diners love Koi's soft shell crab served with tart ponzu sauce, toro cut rolls featuring fresh fish from the market, and monkfish liver.
Check out these wonderful seafood restaurants in Seal Beach! If your wallet is feeling tight and you need to get some fast cash on hand, reach out to Seal Beach Title Loans or Title Loans Express! We've got you covered!