Home To The Happiest Place On Earth
Anaheim is a city located in Southern California's Orange County region. The city is known to be home to the world-famous Disneyland Resort and Disney's California Adventure theme parks. Each night, Anaheim residents and visitors can marvel over the evening sky as the Disneyland parks perform its fireworks show. Anaheim is one of the busiest cities in the nation as it hosts tourists from all over the world. So whether you're visiting from out of town, or a Southern California local who is visiting the city, Anaheim is filled with plenty of entertainment, good food, and activities to check out.
Here is a compiled list of local favorites in food and activities in Anaheim, California.

1. The Ranch
If you're looking for an evening on the town, visit The Ranch for a steakhouse dinner you won't forget. The restaurant is a local favorite for anniversary dinners, birthdays, and special occasions. Locals love its popular entrees such as the Cowboy Ribeye, popovers, and prime rib.
2. Cortina's Italian Market and Pizzeria
If you're craving for a taste of Italian-American food, Cortina's Italian Market and Pizzeria is well-loved and known for its sandwiches, pizzas, and pasta. Next door to the restaurant is a deli where you can buy assorted meats and marinated olives, as well as a bakery with cannolis, cookies, and cakes.
3. In-N-Out Burger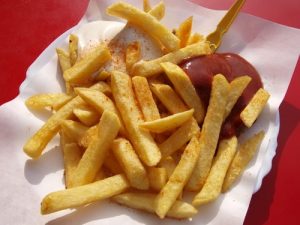 Out-of-towners and visitors from outside the state should make a stop to California's popular burger joint, In-N-Out. The eatery is known for its simple and classic menu, boasting of its double-doubles, animal-style fries, and milkshakes. In N Out's secret menu also makes this burger joint a cheap and enjoyable meal with plenty of options.

4. Bodhi Leaf Coffee Traders
Coffee aficionados can rejoice over the region's variety in coffee shops and cafes. Bodhi Leaf Coffee Traders has a few locationsin Orange County and is known for its nitro cold brew. The shop roasts its own coffee beans, which makes this joint unique.
5. The Anaheim Packing District
Once a citrus-packing house in the early 1900s, this newly-renovated warehouse was developed into open-space food court. The Anaheim Packing District is home to at least 35 artisans and food vendors. You can find grilled cheese sandwiches, poutine, Indian food, and handcrafted ice cream all under one roof!
6. Zankou Chicken
Looking for some Mediterranean food? Zankou Chicken serves up gyros, chicken, falafel, kabobs, all with a delicious side of hummus and pita bread. The garlic sauce is a fan favorite and is a perfect accompaniment to your food.
7. M&M Donuts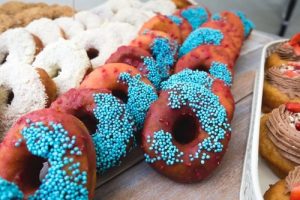 Ever been to a donut that opened at 9:30 pm and closes at noon? M&M Donuts is packed with hour long lines almost every night because of its famous blueberry donuts. Is the hype justified? Yelp reviewers seem to think so. Stop by and see for yourself if these donuts are worth the wait.
8. Downtown Disney
Low on cash? We get it. If your budget is tight and a $110 admission ticket to Disneyland is not in the plans, don't worry. Downtown Disney is a great exception for a relaxed night of shopping, great eats, and music. With more than 11 food and dining restaurants in the district, you won't have a hard time finding an enjoyable eatery amongst its lively environment. You can also catch outdoor music and concerts from local bands and artists on a nightly basis.
9. Healthy Junk
For those who are looking for vegan and vegetarian options, Anaheim is home to Healthy Junk, a vegan restaurant serving favorites with a twist. The menu offers healthier alternatives, gluten-free options, and meals that will win any meat-lover over. Local favorites include their curly yam fries, their mango tango salad, and their vegan street tacos.
10. Original Pancake House
If you are more of a breakfast person, the Original Pancake House will wow you with their menu. Although it's a franchise through the nation, locals rave about the breakfast joint's delicious dutch baby pancakes, german pancakes, and its enormous portions. Breakfast is served starting from 6am to 2pm, so be sure to have your day planned accordingly.
Whether you're in town to visit Disneyland or to visit other attractions, you'll find plenty of amazing options when you're dining out in Anaheim. For all your quick cash needs, don't hesitate to reach out to Title Loans Express.