If you're visiting Orange County and looking for some of the best places to visit for food, restaurants, and beaches, give yourself a chance to go check out Seal Beach! This city is known for being a fairly quiet counterpart to its neighboring beach cities of Huntington Beach and Long Beach.
Historical Seal Beach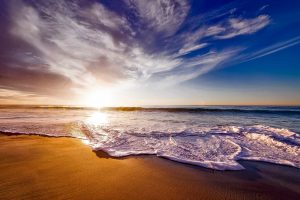 Seal Beach is a coastal beach city located in southwest Orange County, CA. The city was once historically known as "Bay City" in the early 20th century, but was renamed to its current name during the city's incorporation in 1915.
During its World War II days, Seal Beach was a United States Navy's Naval Weapons Station. The station was a place that operated in loading, unloading, and storage of ammunition and was the primary source for fleets. Seal Beach is also home to the Red Car Museum, which features historical Pacific Electric Railway Red Cars that have been restored from the early 1900s. The Red Car Museum features these trolleys and displays the rich history of the trolley tracks that once ran through the cities of Southern California.
Present Day
Today Seal Beach is a city with booming population with great sources of recreation such as the beach. The 2010 Census records as many as 24,100 people living in the city's boundaries. Seal Beach is also home to the large airplane manufacturer Boeing, which employs roughly over a thousand people from the city. Seal Beach is also the site of the second longest pier which is used for fishing. Many surfers also come to Seal Beach for its surfing scene, which includes Stingray Bay, and the Seal Beach pier.
Local Places To Eat
Seal Beach delights many local residents with its food scene. The city is home to many gourmet bistros, cafes, and seafood restaurants. Here are just a few you can check out.
For brunch lovers everywhere, Crema Cafe is the choice location when you're in Seal Beach. Crema Cafe's fans rave about the restaurant's delicious breakfast crepe plate, eggs benedict, the chorizo, and the smoked salmon omelette. The cafe is also known for great coffee including its popular vanilla lattes, and delicious danish pastries. Crema Cafe is located at 322 Main St.
This Thai bistro has fans raving on its Yelp page. Customers enjoy Rocharin Thai Bistro's delicious authentic Thai flavors, making it a go-to for many Seal Beach locals. Diners love the restaurant's creamy yellow, green, and red curries, the pad thai, drunken noodles, and seal beach noodles. A unique feature about this Thai restaurant is that it offers food delivery services through their company's mobile app. Yelpers mention that their fast delivery services kept food fresh and hot. Rocharin Thai Bistro is located at 600 Pacific Coast Hwy Ste 108.
If barbecue is more your thing, be sure to make a stop at Beachwood BBQ. This west coast barbecue joint offers your non-typical twist on southern barbecue classics, such as its rich and creamy blue cheese grits. Craft beer lovers will also be pleasantly surprised to find out that Beachwood BBQ is also a brewery, and offers many of their house crafted beers on tap. Eaters love their wild mushroom stew, tater tot casserole, as well as their fried green tomato sandwich. Whether you're a dedicated fan of southern food, or just a beer enthusiast, stop by Beachwood BBQ for a great lunch or dinner in Seal Beach. The restaurant is located at 131 Main St.
Be sure to check out these local favorites when visiting Seal Beach. If you're low on cash and in need of a fast loan, give Title Loans Seal Beach a call!