If you have ever been turned down or had trouble getting auto financing in California, Arizona & Georgia, then the best option could be applying for a car title loan with Title Loans Express. Even if you have bad credit or a bankruptcy on your credit file, those are all issues we have dealt with before and are NOT A PROBLEM for us. The main factor for us is the VALUE OF YOUR CAR. Our title loans are super easy and take anywhere from 15-45 min to borrow money based on the value of your car or truck. Even if you have the worst credit possible, we can get you a loan AND you can still drive off in your own car.
Our auto title loans offer you the ability to drive away with cash in your pocket in your own vehicle. The main requirement is that there is sufficient value in your car and your car is either almost paid off or completely paid off. Your car will be leveraged against as collateral with a minimum of $2,600. We have been in the business for years and we can get you cash in hand based on the title of your car.
For more information you can check out our Frequently Asked Questions, call us at: 855-303-CASH(2274), or fill out our easy application form to see if you qualify for any of our loans.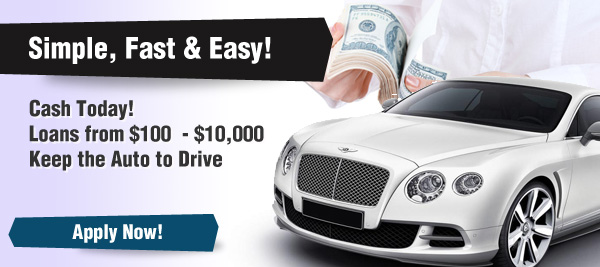 Why get a car title (auto title) loan in California, Arizona & Georgia?
People have many uses for needing an auto title loan and here a just a few reasons:
Temporary funds to catch up on bills
Urgent medical bill
Funeral expenses
Funds for business expenses
The benefits of getting a loan from Title Loans Express in California, Arizona & Georgia is that our loans are simple interest so you don't have interest piling up on you every month like a credit card. Also, as our loans are based primarily on the value of your car, having bad credit is not a problem! If you don't like doing business over the phone or online you can come pay us a visit at any of our locations in California, Arizona & Georgia!